The Town house has two bedroom, two bathrooms.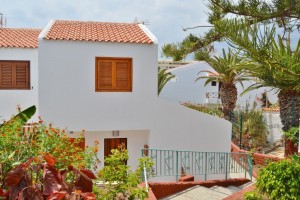 Bedroom 1 is upstairs with bathroom next door with bath / shower.
Bedroom 2 is downstairs with en suite bathroom with shower.

It's located just 5 minutes walk from La Pinta beach and the pleasure of port Puerto Colon. It is situated on the Torviscas side of Parque San Eugenio and is in an ideal position for Playa Fañabé (Costa Adeje). On the other side of Parque San Eugeno is a shopping centre with a large supermarket.
Click on the top half of any image below for larger photos. Click here to book.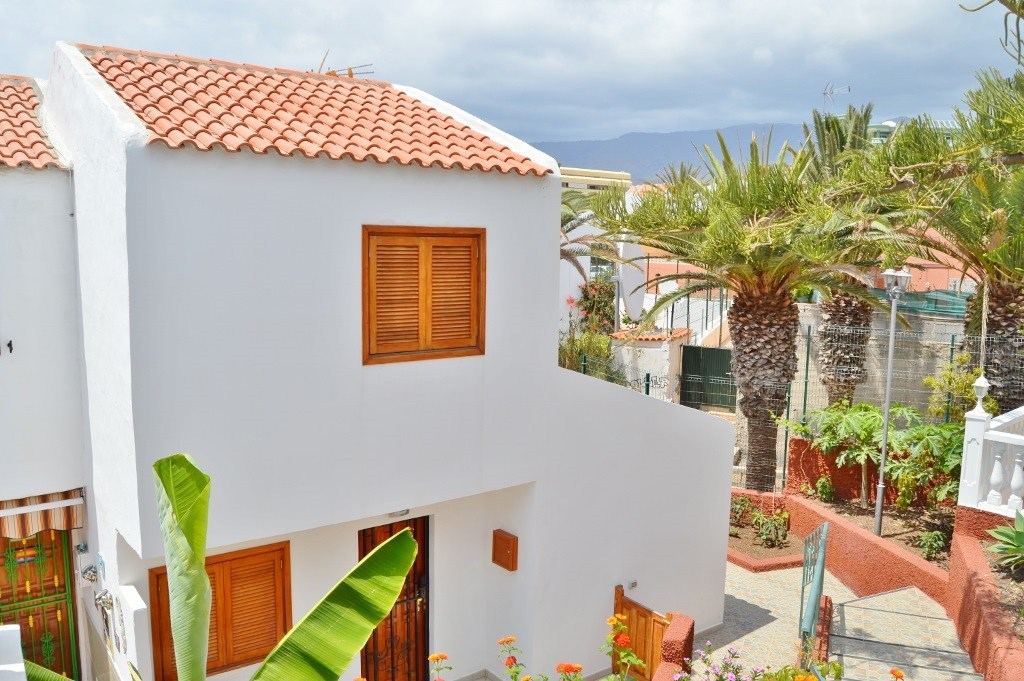 If you are interested in booking this for a holiday, please click here.
It's a corner town house and has been refurbished throughout including both bathrooms. It's a mixture of traditional Spanish look and modern facilities. It is equipped with WiFi and TV.
A new kitchen was installed in 2022 which is fully equipped. The washing machine is just outside the kitchen.
The town house has it's own gate onto a walkway, past Harley's American Restaurant and down to La Pinta bay which has lots of bars and restaurants around a sandy beach with a view of Puerto Colon. Great place to chill out and watch the world go by.
From La Pinta bay you can walk around the headland with great views out to sea and then on to the long beach of Playa de Fanabe.
The shared pool is right beside the town house and is very quiet. Often you will be the only ones there. From it you can see the sea and the island La Gomera one way and the mountains the other.
The view from bedroom 1 is of the pool and the mountains.
There is also a car parking space available and a hairdryer is provided.
Tenerife Sur Airport is 9.9 miles away. Cheap flights are available to Tenerife from many UK airports. Try Skyscanner to find them.