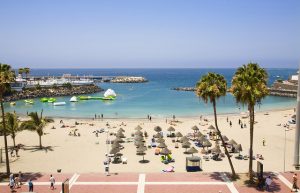 The town house is just 5 minutes walk from La Pinta beach and the pleasure port Puerto Colon. It is situated on the Torviscas side of Parque San Eugenio and is in an ideal position for Playa Fañabé  (Costa Adeje).
It has it's own gate onto a walkway, past Harley's American Restaurant and down to La Pinta bay which has lots of bars and restaurants around a sandy beach with a view of Puerto Colon. Great place to chill out and watch the world go by.
There is a taxi rank just opposite Harley's. Taxis are cheap and a good way of travelling any distance.
There are all sorts of trips that you can take. Popular ones are boat trips (from Puerto Colon) to see dolphins and whales, going up mount Teide (it's cold up there!) and Loro Park (in the north of the island) which is an amazing experience.
In the area of the town house you will find the famous Siam Water Park (this is an unbelievable place), the best water park in the world according to Trip Advisor. You can get a free bus to this or if you prefer you can take a leisurely 30 minute stroll.
Next to Siam Park is Siam Mall which has some great shops and places to eat. You name it, it's there. Again there's a free bus or walk.
Fanabe Market is open from 9am till 2pm every Thursday and Saturday and takes place in the large car park beside Hotel Fañabé Costa Sur. It's very large and busy and full of the usual market stalls. As a complete contrast to this nearby is the Plaza del Duque shopping centre full of exclusive shops.
You can walk for miles along the coast in both directions. One way leads to Los Cristianos, the other to the fishing village of La Caleta.
It you like walking there's the Masca Gorge walk (coach to Masca, walk down the gorge and picked up by boat at the bottom). You'll need good shoes.  The walk takes 3½ to 4 hours.
There's also Aqualand water park (about 15 min walk away or free bus) but if you're going to a water park go to Siam Park.
You can also get a free bus to Jungle Park.
Click here to book the town house