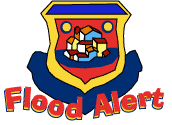 Flood Emergency Training Centre - Initial Briefing
Instructions
Objectives of the activity:
Ensure that each flood location remains under control (i.e. under 5 river levels).
Carry out all necessary actions using as little of the emergency team's budget as possible.
How to operate the simulation:


At the end of the simulation you will receive a report showing how successful you were in meeting your objectives.

Print out and study the report to improve your performance.