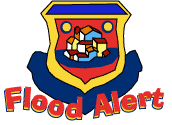 Flood Emergency Training Centre - Initial Briefing
You are a flood emergency co-ordinator. You have three options to try:
Trainee - You are a trainee co-ordinator, dip your toe to see if you are up to the job.
Rescuer - You are a serious rescuer, see what you can do without getting your hair wet.
Professional - You are a professional, you need to achieve your objectives.
All three feature the same three locations:
Alpenmore


- a town high in the mountains where two rivers meet. Major problems are caused by spring thaw.
Grindley


- an industrial town with important factories next to the river making use of the water in their manufacturing processes.
Summerton


- an agricultural town in a wide valley. Problems are extensive across valuable grazing land when the river breaks its banks.

Or if you are an experienced flood emergency co-ordinator, you can tackle a random flood where your skills are really put to the test.